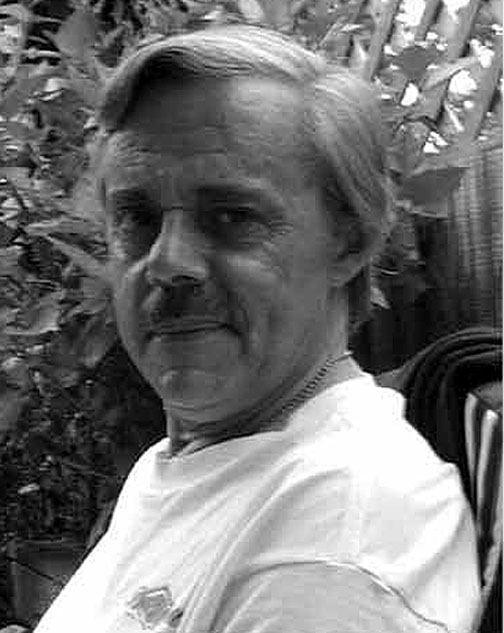 James Gibson, composer and pianist. Photo by Gary Jameson.
JAMES GIBSON is one of the most prolific composers of today, with over 300 works in all genres and styles. His widely diversified career includes piano recitals and recordings, conducting, film and theatrical directing, writing, teaching and acting. Numerous commissions include American Theatre in Berlin, poet John I. Nash, Cornell University, AcquaTroupe, World Oceans Arts, mezzo-soprano Ellena Hogrefe, visual artist Kumi Korf, Oceantroupe Films and many others. He has performed as a pianist and actor Off Broadway, and his play "Cafe Playa Moon" has had three separate professional New York productions. Dr.Gibson taught for a number of years at Cornell University, the University of Maine at Fort Kent, and Penn State University at Hazleton. In recent years he has taught privately and performed constantly. He has also directed about 100 operas and musical theatre works, many plays, and films. He is Artistic Director of World Oceans Arts and of AcquaTroupe, which is one of the most highly regarded and diiversified multiarts ensembles of today. They often perform music by living classical composers, including many SCI members. Much of his work is dedicated to encouraging and supporting fellow composers and other aspiring performing and creative artists; and to exploring broader interaction among artists, audiences, and influential figures in all walks of life. He is widely recognized for ambitious and innovative hybridization of various arts, and for a remarkably skillful ability to maintain solid traditions while creating music which is often referred to as being mystical, captivating, highly original, and possessed of sheer beauty and warmth.
James Gibson earned degrees in music from the Universities of Michigan and Maryland, and Cornell University. His principal mentors in composition were Leslie Bassett, Lawrence Moss, Karel Husa, Ross Lee Finney and Burton Beerman. He has also studied or performed with many leading artists including Thomas Schippers, Gian Carlo Menotti, Patricia Kern, David Zinman, Russell Christopher, Thomas Hilbish, Elmar Oliveira, James Oliver Buswell, Justino Diaz, Christopher Rouse, Ida Kavafian, Steven Stucky, Justus Frantz, Christoph Eschenbach, Enzo Dara, Joseph Banowetz, Benita Valente, Maria Valdes, Jerzy Sapieyevski, Ellena Hogrefe, and Karen Keys. His compositions have been performed in 48 states and about 35 countries.
Dr. Gibson is admired for providing opportunities for creative and performing artists worldwide. Currently he is overseeing a 100+ concert tour by AcquaTroupe which next features a performance in New York City on March 8.. He is also a lifelong geographer and linguist, and has been recognized as among the top 44 birders in the world. His studies of birdsong influence some of his compositions. James recently wrote, directed and composed music for two feature films, "Sing to the Stars"; and "Litany", which will be released soon. He also performs numerous works by living composers on piano recitals, multi arts events and recordings. His opera "Henry the Sixth Part I"(a setting of the Shakespeare play) is in preparation for its world premiere. He also provides both narration and music for the increasingly popular video series, "Exploring with Shakespeare". Finally, he is conductor and artistic director of forthcoming recordings and productions of two operas by renowned composer Lawrence Moss. MOST RECENT COMPOSITIONS: 'Cvrst' for solo clarinet; 'Adventus Bonitatem' for 2 clarinets & voices; 'Crisscrossed Pathways' for string trio; 'Let Us Run with Perseverance' for 5-part choir; and 'Vocalise no. 2' for two treble voices. RECENTLY RELEASED: "Living Piano Music by James Gibson", a CD of twelve original works, available at jamesgibsonallarts@gmail.com. Just released is the first in a series of vlogs about the role of a composer in today's world. Sample scores,catalog of works, sound bites, blogs and vlogs can all be obtained at world.oceans7@gmail.com or jamesgibsonallarts@gmail.com. Current recording projects: A series of CDs of music by living composers, numerous SCI members among them; and twelve of Gibson's own original art songs featuring mezzo soprano Ellena Hogrefe. She and Dr. Gibson are also currently recording art songs by numerous other contemporary composers. On YOUTUBE: "Threshold", his most often-requested piano composition, which was inspired by Javanese gamelan. Soundbites of other works are available by contacting jamesgibsonallarts@gmail.com.